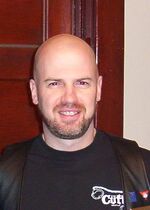 Hey gang. Noran 'the Axe' here. Your chubby, neighborhood dwarf with a scraggly beard. I'm an avid gamer and have enjoyed all CRPG's that are AD&D related since the early "gold box" releases back in the 1980's (yes, I'm an old fart). I've been trying to help get as much information posted on the Wiki and get it up to date as possible. If you see something that really needs attention, let me know if you don't want to do it yourself.
I've been working on getting more information together for the crafting systems. Specifically for how UMD interacts with the system. However, I'm also been working hard to compile a complete list of both Potions and Scrolls. This has taken an extensive amount of time on my part and is still in progress. If anyone would like to help in this endevor, please hit me up directly at my e-mail address: robert@midatllsb.com
Wands are posted and up to date as of patch 1.06
Potions are posted and up to date as of patch 1.06
The list of scrolls is too extensive to compile. It may be easier to list those scrolls that can NOT be made. At this point however, I don't have the time to complete this portion of the project. If someone else wants to pick this up, by all means do. Until my work schedule relaxes a bit and things at home settle down, I won't be able to do large projects like this.
The above two lists need updated for MotB. If you'd like to help, please contact me. --Noran