---

---
Torio Claven (female true neutral humanoid) is a recruitable NPC in the Official Campaign.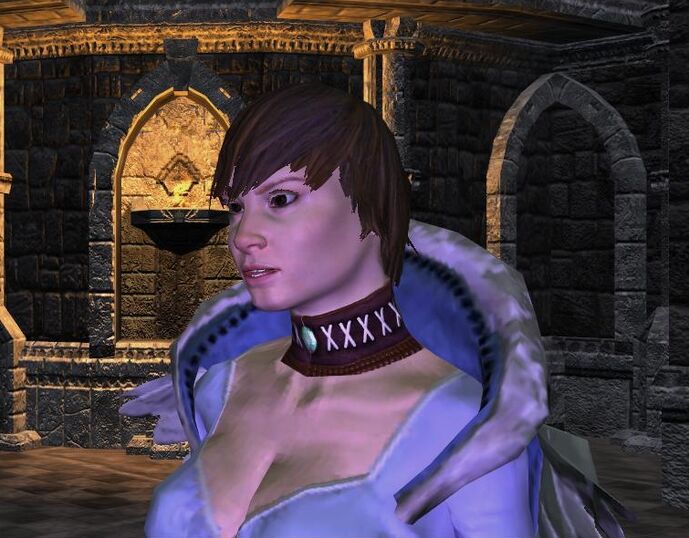 "Dressed in an elegant and revealing dress, this woman wears her short hair in a purposefully disheveled manner. While her dour face is devoid of any genuine smile and lacks the beauty of vibrancy, her slender body and predatory stare have a cold, dominating sex appeal."
If recruited to Crossroad Keep, she serves as a talent scout aiding the PC in recruiting talented individuals who might benefit the keep. She identifies the following individuals as potential recruits:
Torio met Black Garius many years ago on the streets of Luskan when she was earning coppers singing and performing in Luskan alehouses. Garius used Torio to spy on the Hosttower mages who frequented the seedier districts of Luskan and from there he was able to track their movements and plans which allowed to quickly gain power. As Garius' prestige grew, Torio became an effective weapon serving as his eyes and ears and eventually she was given the position of ambassador to Neverwinter. She served as Garius' informant within the Neverwinter and allowed him to adjust his plans accordingly.
After the PC drove out Luskan covert agents trying to enter Neverwinter through the Docks, Garius had her and Lorne Starling concoct a plan to have the PC extradited to Luskan and sentence him/her to low justice in order to prevent further interference. They framed the PC for the massacre of Ember, which was in Luskan territory, and tried to play it as some sort of hate crime. Lord Nasher Alagondar (or Axle, if the PC joined the Shadow Thieves) saw through her deception and quickly had the PC made a squire, which prevented the PC from being extradited, but still required that he/she be put on trial in Nasher's courts for the accused crime. One way or another, Torio's scheme is eventually revealed and she is arrested in Neverwinter, and disregarded by Luskan as being a member of a rogue faction and is replaced by Sydney Natale as ambassador.
Shortly before her execution, Sir Nevalle intervened and suggested that the PC should be allowed to determine her fate. The PC can choose to have her executed or spared and assigned to Crossroad Keep. If she is brought to Crossroad Keep, she helps the PC recruit talented individuals to work for the keep.
Torio was skilled as a diplomat, skilled in social proceedings and formalities, and was manipulative and cunning in her work as Luskan's ambassador. Because of this, she was reviled by others like Lord Nasher, Sand, and Haeromos as a "harpy." Though she remained respectful towards Garius, she was particularly cruel towards Lorne, often mocking him for his failures and belittling him in front of Garius.
During the trial, if Marcus was allowed to speak, he would proclaim that Torio was not truly a cruel person, rather that she feared Garius so much that she learned to be cruel and manipulative like Lorne. After the battle with the King of Shadows (provided the PC stayed her execution), she was returned to Luskan and reinstated as their ambassador. After several years of service, she revealed that she was an agent of Neverwinter and her role had allowed her to arrest a score of Luskan spies who had infiltrated her new home city.
Community content is available under
CC-BY-SA
unless otherwise noted.