According to Gamestop, the limited edition ships 31 October 2006 and has a price of $59.99.
United States
[
]
Obsidian has stated that -- unlike other countries with two versions -- there will only be one version of the limited edition released in the United States. [1]

Limited Edition contents, according to GameStop.com and EBgames.com:
A powerful new feat called Blessed of Waukeen, which will generate +1 bonus to all saving throws
Two special items
Access to a unique weapon
A magical golden aura which lights above your character
Cloth map showing in-game locations
Book of art, depicting characters and scenes from the game
Two silver antique rings: Good & Evil
EU (Germany, France, Italy, Spain, United Kingdom)
[
]
These 5 countries get to choose between a Lawful Good and Chaotic Evil edition. They include:
NWN2 DVD (multilingual version: English, French, German, Italian, Spanish) in extra DVD-case

Including 10 predefined characters (CE or LG)
Characters created with this version gain +1 to all saving throws
Characters created also gain "Blessed of Waukeen" innate ability (Create Light / 5 turns)
NWN1 Platinum Edition DVD (NWN1+Addons, english)
Soundtrack/Artwork DVD (115MB total)

21 MP3 tracks (160kbps)
17 JPG images (3 Windows wallpapers, 5 posters and 3 NWN2 advertisement pages in different sizes)
3 videos, 10 slideshows
English Game map (glossy paper 16" x 16")
"User's Guide" (40 page booklet in local language; 6 PDF-Manuals (177pg. US-manual and 80pg. manuals in local languages)
Artwork booklet (ring-bound, 21 pages of Art)
A 4" plastic figurine (see below)
A pewter ring 1" diameter with engraving "Chaotic Evil" or "Lawful good"
Large box that looks like a book/chest (10.4" x 8.3" x 3.5").
An advertising handout with a 7-day DDO trial-code.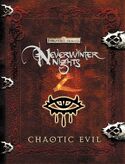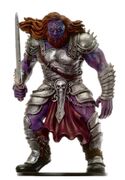 Notes
[
]
United Kingdom

In the UK, the two different editions seem to be split between different online stores, with www.play.com hosting the 'Lawful Good' edition at £34.99 (stock is currently sold out) and GAME selling the 'Chaotic Evil' one at £44.99.
[

]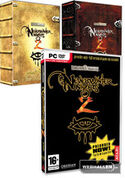 boxgame.com (danish)<br\> Webhallen.com (swedish)<br\> CDon.com (norway and others)
Two different collectors editions will be available for Neverwinter Nights 2, a good and an evil edition, the two editions will be sent out randomly, the collectors edition will presumably contain the following items:
Game on DVD
Manual
CD MUSIC + CD ARTWORKS
A ring with Neverwinter's eye.
Customized launch interface (Evil/Good)
Clothe map of the world (old paper)
Leaflet depicting several Evil/Loyal characters stories from the game
Art books
One figurine
A metal flask
Poster A3
In every single NWN2 box a client of D&D Online with a 7 day free trial
* Original Neverwinter Nights + Add-on in a special box.
Dungeons & Dragons: Dragonshard strategy game(Finland)
Australia
[
]
According to Games Warehouse Australia, the "Collectors Edition" includes the following: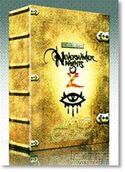 Large, book style box 245 x 190 x 60mm
Cloth Map
Art Book
Pen & Paper set
In-game Item: Merchant's Friend.
Customer who order the collectors edition game can make characters with the free epithet feat Merchant's Friend. The player character's (PC) association with Daeghun is known by many friendly merchants. Whenever a PC with Merchant's Friend talks to a merchant, requesting access to the main store will check for that feat. Before opening the store, the merchant will comment that he's giving the PC a special rate because he or she is a cool dude.
Additionally, the Merchant's Friend feat opens up a special dialogue option with one merchant in a prominent location. This dialogue option essentially says, "Hey, I'm a Merchant's Friend. Show me your good stuff." The store contains one of three set items for characters of all twelve classes. These items look slightly different than any other items in the game and are pretty inexpensive considering their power. They also have extensive back stories about their histories.
New Zealand
[
]
The Gamesman in New Zealand has more:
BONUS OFFER - Pre-Order Neverwinter Nights 2: Limited Edition from Gamesman Online and receive a bonus CD containing an updated tools set and an in-game item (Blessed of Waukeen)
In-game Item: An epithet feat called Blessed of Waukeen. In addition to the PC's other spectacular qualities, he or she was born on a Waukeenar holy day. PCs with Blessed of Waukeen have an additional yellow/golden light above them. Such blessed characters also have a +1 bonus to all saving throws.
Three merchants in the game will allow special dialogue options with the Blessed of Waukeen. These merchants will open special stores for the character. Two of the stores contain set items, the second and third for each class. The third store contains unique named weapons. Due to the sheer volume of potential weapons, they will not have unique histories. However, all of the equipment presented will have unique appearances and will be inexpensive for their listed power.
| | |
| --- | --- |
| Oddly enough, community member Hannes665 points out that the map image above matches an ancient map of Iceland. [2] | |
Old version
[
]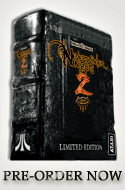 The NWN2 web site originally included an image of a different limited edition box.

See also
[
]