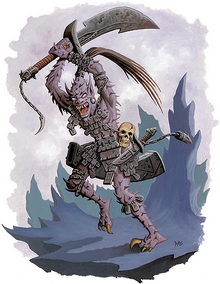 "This humanoid has skin of dull metallic hue, spotted with patches of metallic spines. Its eyes gleam like shards of purple ice."
The Bladelings are a race of lawful neutral outsiders that hail from Acheron. Bladelings, as their name suggests, are covered with bladelike spikes from the creature's own skin and bone.
Community content is available under
CC-BY-SA
unless otherwise noted.