"A dark aura of power surrounds this towering humanoid with huge bat wings. Lurid flames dance over its skin. In one of its massive clawed hands, this creature bears a sword that looks sharp enough to cut even to the soul."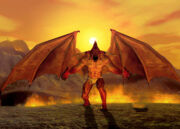 The Balor is an chaotic evil demon with large wings and magical or unusual abilities. As one of the most powerful types of demon, Balors are second in power only to the Demon Lords. They wield a sword in one hand and a flaming whip in the other, acting as the generals of demonic armies.
Outsider 20
Always chaotic evil
Damage reduction 15/cold iron and good
Immunity to fire, electricity, and poison.
Damage resistance to cold 10/-
Spell Resistance 28
Weapon Proficiency (creature), Weapon Proficiency (simple), Weapon Proficiency (martial), Cleave, Improved Initiative, Two-Weapon Fighting, Improved Two-Weapon Fighting, Power Attack, Weapon Focus (longsword)
Can cast Dominate Monster, Fear, Fire Storm, Greater Dispel Magic, Implosion, Power Word Stun, Summon Tanar'ri, and Wall of Fire at caster level 20 once per day
Death Throes (Ex): When killed, a balor explodes in a blinding flash of light that deals 100 points of damage to anything within 100 feet (Reflex DC 30 half ).
Community content is available under
CC-BY-SA
unless otherwise noted.