Obsidian has confirmed that badgers will be included in NWN2.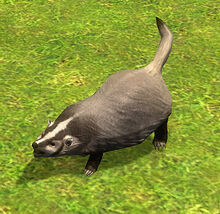 DnD 3.5 Badger
[
]
Description: The badger is a furry animal with a squat, powerful body. Its strong forelimbs are armed with long claws for digging.
An adult badger is 2 to 3 feet long and weighs 25 to 35 pounds.
Saving throws
[
]
Ability scores
[
]
Skills
[
]
Feats
[
]
Pre-release notes
[
]