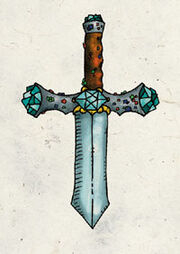 The dwarven god of greed, Abbathor (ab-bah-thor), is an intensely greedy deity and is both desirous and envious of others' riches. He and his followers believe in the acquisition and hoarding of money and other forms of wealth by any and all means necessary. His relations with his fellow dwarven deities are strained, but he has not been cast out of the pantheon.
Abbathor's priests dress in red leather, and leather caps. His holy days are on the solar eclipse, and he demands the sacrifice of both blood and gems annually.
Community content is available under
CC-BY-SA
unless otherwise noted.